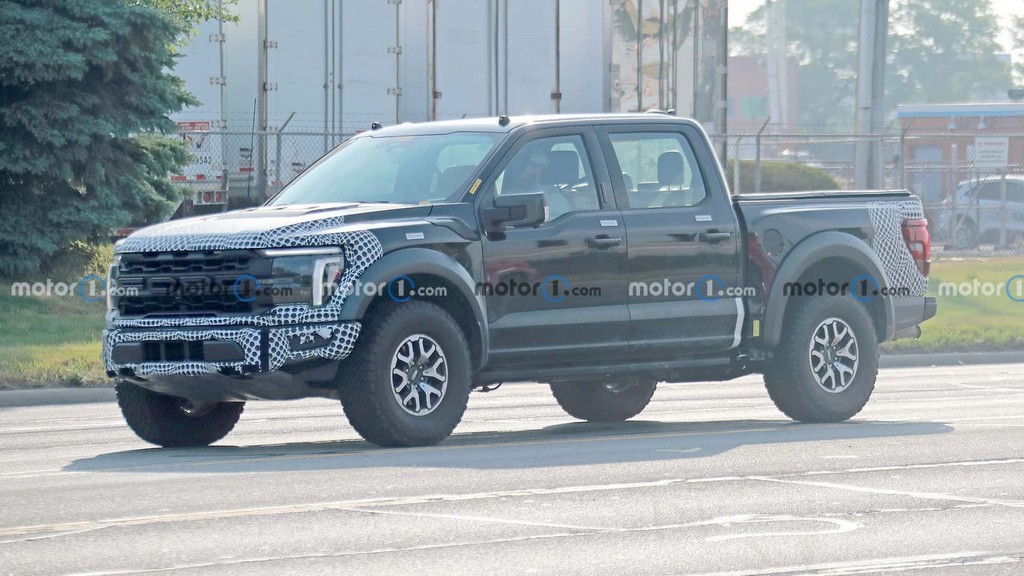 Ford F-150 Raptor Facelift Spied: A Glimpse of Redesigned Grille and Headlights
Ford enthusiasts have eagerly been awaiting updates to the F-150 Raptor, and recent spy photos have given us a closer look at the progress made on the upcoming facelift. Ford has been hard at work refining not only the F-150 Raptor but the entire F-150 range, and these new images provide a glimpse of the design changes in store for this high-performance truck.

Although not completely undisguised, the latest prototype sheds much of its camouflage at the front, revealing a subtly redesigned grille. The iconic FORD lettering remains intact, but the honeycomb pattern surrounding it has undergone tweaks and now features vertical slats. The lower section of the fascia showcases a new layout for the lower grille, incorporating two vertical slats in the center.

One of the most notable reveals in these images is the revamped headlight design. With no camouflage obstructing them, the headlight clusters showcase new LED daytime running lights. The arrangement includes two distinct lines—one C-shaped and one straight—positioned above, forming a unique lighting signature that deviates from the previous model's boomerang-shaped LEDs. Additionally, a fresh addition can be observed in the middle of the headlights, featuring an additional LED element that extends into the grille and connects with the FORD lettering.

Not only have there been updates to the front, but changes can also be seen at the rear of the F-150 Raptor. Although the overall layout appears largely unchanged, the taillights now sport different internal graphics. While the shape of the units remains the same, the white elements within the taillights now sit vertically, departing from the previous C-shaped form. The outer red LED element that encircled the entire cluster in the outgoing model has been replaced with a more intricate arrangement incorporating additional LED components.

While the facelifted F-150 Raptor is expected to receive visual revisions, it remains uncertain whether there will be changes under the hood. The current performance truck is available with a twin-turbo 3.5-liter EcoBoost V6 engine producing 450 horsepower and 510 pound-feet of torque. Additionally, there's the hotter Raptor R variant with a 5.2-liter V8 engine generating an impressive 700 horsepower and 640 pound-feet of torque. It is anticipated that both powertrain options will carry over to the refreshed F-150 Raptor, providing exhilarating performance for enthusiasts.

With the promising design updates seen in these spy photos, Ford fans can anticipate an even more compelling and visually appealing F-150 Raptor hitting the streets in the near future. Stay tuned for further updates on this highly anticipated facelift.
[ngg src="galleries" ids="32″ display="basic_thumbnail" thumbnail_crop="0″]
 Photo Credits: motor1[.]com