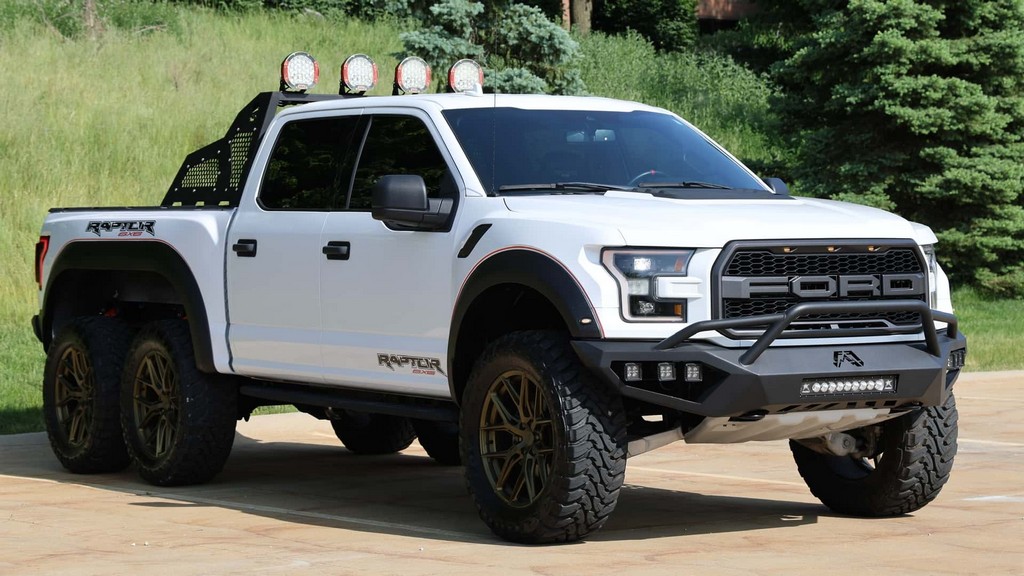 Rare 2020 Ford Raptor 6×6 Super Crew for Sale – Ready for Off-Road Adventures
If you've been dreaming of owning a Ford Raptor 6×6 truck without going through the build process, here's your chance! These unique 6×6 truck conversions are gaining popularity in the performance truck market, offering an extra set of wheels to conquer any off-road excursion. The Ford Raptor 6×6 is a true rarity in the world of car collectors, and Sarchione Auto Gallery is excited to present this ultra-rare 2020 Ford Raptor 6×6 as part of their exceptional collection of rare and collectible exotics.

Originally a factory Ford Raptor, this truck has undergone a 6×6 Raptor uplift package, transforming it into a formidable off-road beast. The gloss Oxford White body now features an additional independent set of wheels and suspension. The rear pickup bed has been extended to accommodate the necessary wheelbase for the four 22-inch bronze Vossen hybrid forged wheels and 37-inch off-road tires. To enhance its rugged appearance, the truck is equipped with accessories such as a matte black brush guard, LED light rack, fender guards, and striking Raptor 6×6 graphics, setting it apart from any other vehicle on the road.

Inside the Ford Raptor 6×6, you'll find a custom touch that complements the exterior design. The cabin is adorned with black and white leather, creating a visually appealing and comfortable environment. Each front seat headrest proudly displays the Raptor 6×6 logo, embroidered in white contrast stitching. While the truck boasts a monstrous off-road look on the outside, the interior retains the familiar and comfortable factory Ford Raptor feel.

Powering the Raptor 6×6 is a Ford Performance 3.5L twin-turbocharged V6 EcoBoost engine, delivering an impressive 450 horsepower and 510 lb-ft of torque. This potent engine is paired with a sophisticated 10-speed dual-clutch transmission, allowing for seamless gear changes on and off the trail. With its powerful performance and exceptional capabilities, the Raptor 6×6 is ready to take its new owner on the adventure of a lifetime.
[ngg src="galleries" ids="31″ display="basic_thumbnail" thumbnail_crop="0″]