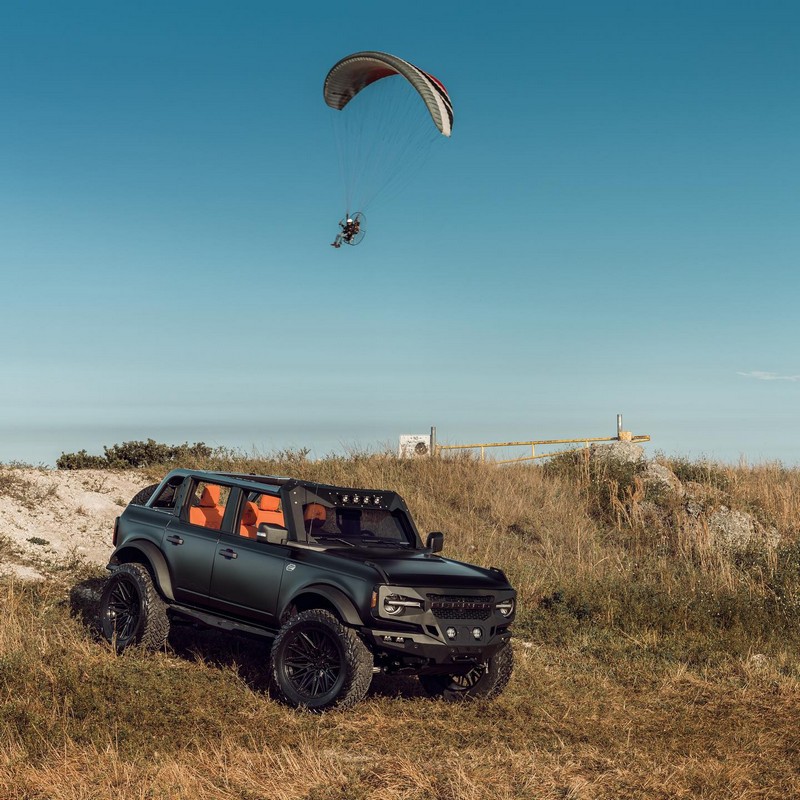 Satin Black Ford Bronco Rides Masked and Lifted on Concave 22s
The Blue Oval company is currently experiencing the classic pre-delivery mountain of hype for one of its most eagerly-awaited models, the 2024 Ford Mustang. But the aftermarket world is still interested in presenting us with 'yesterday's' SUV hero, the reinvented sixth-gen Bronco – and we're all in because of some outrageous details.

Sure, everyone wants to know the Ford Mustang pricing guide and order info so that we can better compare the seventh-generation S650 to the rest of the pony and muscle car world – aka the 2023 Dodge Challenger and Chevy Camaro. But if they are like me, generalists, many Blue Oval folks would also love to season the latest and (arguably) greatest sports car icon with something that allows for cool adventures when thinking of going off the beaten path.

And there is nothing more hyped, beloved, and 'slapped' for its many flaws than the reimagined sixth-gen Ford Bronco – the 'ultimate' dune-bashing and rock-crawling companion and a big thorn in the side of the Toyota 4Runner and Jeep Wrangler foes, according to diehard Blue Oval 4×4 enthusiasts. The Bronco family has a lot of siblings, from the $34,095/$37,745 Base (in 2-Door or 4-Door body styles, respectively) going through the Big Bend, Black Diamond, Outer Banks, and Wildtrak trims all the way to the $76,580 Bronco Raptor.

Plus, there are also the Heritage plus Heritage Limited, Badlands, and Everglades special editions to choose from. So, you would think that anyone can find their proper fit. Well, that is a gross understatement of human nature and of what is more important – playing stock or standing out in the posh off-road crowd with a little help from the aftermarket realm. If the latter aspect is more important, then you will be glad to find out that the good folks over at Miami-based Esteem Customs – formerly Force Motorsport – have decided that Ford's Bronco is still a hot off-road SUV commodity.

And they acted upon impulse, presenting us with a custom 4-Door that seems ready for anything as if it wears a ceremonial war or ritual mask, ahem, a bespoke front fascia add-on (from Fab Fours Inc.), plus a little bit of hot personalization attire. This Bronco surely is not for the faint of heart, all dressed in menacingly dark Satin Black wrap attire (with a contrasting, full custom orange interior, of course) and rocking Rigid Industries LED pods, a ReadyLIFT Suspension lift kit, and riding like a widebody charm on 22-inch Vossen HF6-5 aftermarket wheels in Gloss Black that were shod in Fuel Off-Road's adventurous tires.

Alas, if that extreme transformation is not for you, embedded second below is another, lighter 4-Door Ford Bronco (a Wildtrak) that is also fully customized, rides on 22-inch Vossen HF6-4 wheels, has a subtler aftermarket front bumper, and blends the full silver (even on the fender flares) exterior look with a deep, rich shade of blue for the cockpit. So, which one is your custom Ford Bronco 'poison?'
[ngg src="galleries" ids="23″ display="basic_thumbnail" thumbnail_crop="0″]
Article Credits: Aurel Niculescu
Full Articles: https://www.autoevolution.com/news/satin-black-ford-bronco-rides-masked-and-lifted-on-concave-22s-like-a-tribal-chief-210739.html