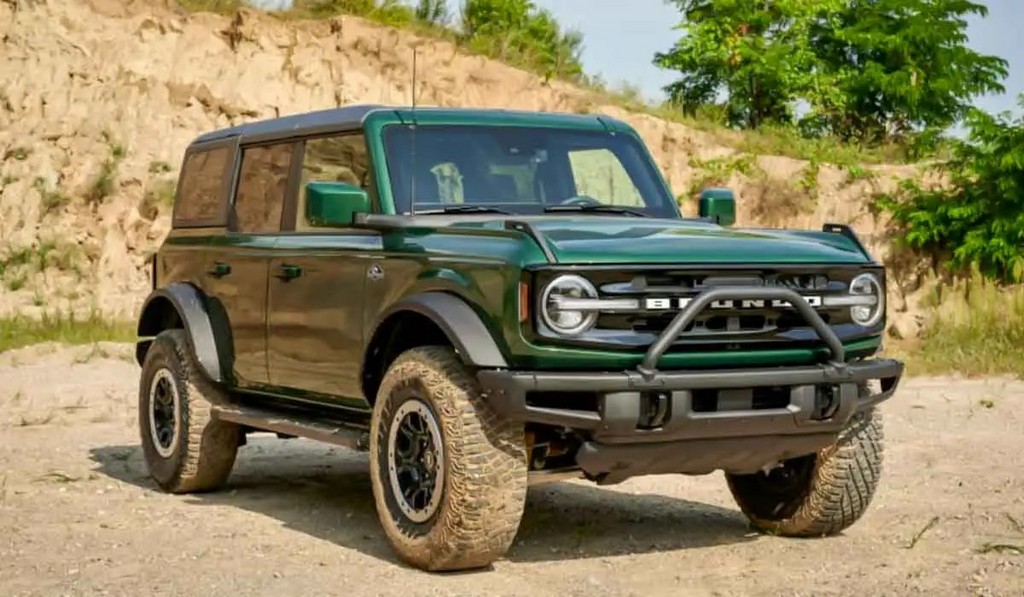 2024 Ford Bronco
The Ford Bronco has quickly established itself as a dominant force in the off-road vehicle market, rivaling icons like the Jeep Wrangler, Land Rover Defender, and Toyota 4Runner. The 2024 Ford Bronco, part of the sixth generation introduced in 2021, continues to offer impressive all-terrain capabilities, on-road comfort, and cutting-edge technology features, solidifying its position as a top choice for adventure enthusiasts.

Off-Road Capabilities and Performance
The 2024 Ford Bronco's off-road capabilities are nothing short of extraordinary. Its independent front suspension and choice of two powerful engines – a 2.3-liter turbocharged four-cylinder (300 horsepower, 325 lb-ft) and an optional 2.7-liter turbocharged V6 (330 horsepower, 415 lb-ft) – ensure a smooth and confident drive across various terrains. The Bronco's available terrain management system, featuring five different drive modes, adapts to different off-road conditions, providing optimal performance and control.

On-Road Comfort and Handling
While designed for off-road adventures, the Ford Bronco doesn't compromise on-road comfort. The vehicle's steering offers stability and confidence at freeway speeds, and its well-supported seats ensure a comfortable ride during long drives. Although the Bronco's truck-based construction results in a firmer ride than some other SUVs, it remains a comfortable and enjoyable vehicle for daily use.

Interior and Technology Features
The 2024 Bronco's interior is designed with off-roading in mind. Large, easy-to-use physical controls make it simple to adjust settings while wearing gloves, and the cabin offers plenty of headroom and legroom. Ford's latest infotainment system is user-friendly, boasting clean graphics and seamless integration with Android and Apple smartphones.

Storage and Cargo Space
In terms of cargo space, the four-door Bronco has slightly less room than the Toyota 4Runner, but still offers a larger interior than its closest competitor, the Jeep Wrangler. The rear swing gate opens to the passenger side, providing easy access to the cargo area. Interior storage options include cupholders, door pockets, and Molle-style attachment points for hanging equipment. The Bronco can tow up to 3,500 pounds, making it a versatile choice for those who need to haul equipment or trailers.
Fuel Economy
The 2024 Ford Bronco's fuel economy might not be its strongest point, with EPA-estimated figures ranging from 17 to 20 mpg combined for the four-cylinder engine and 17 to 19 mpg combined for the V6. However, considering its off-road capabilities and performance, these numbers are acceptable for most buyers in this segment.

Value for Money
The Ford Bronco offers great value for money, providing off-road hardware at different price points to cater to a wide range of shoppers. While some interior materials may appear cheap, they are durable and designed to withstand exposure to the elements. Ford's warranty and ownership perks are on par with industry standards, including a three-year/36,000-mile basic warranty and a five-year/60,000-mile powertrain warranty.

Conclusion
The 2024 Ford Bronco is a formidable contender in the off-road vehicle market, offering exceptional capabilities, on-road comfort, and advanced technology features. Its rugged design, customization options, and performance make it a top choice for off-road enthusiasts. With a starting price of $32,000 and multiple trim levels to choose from, the new Ford Bronco caters to a wide range of drivers looking to conquer the great outdoors.
[ngg src="galleries" ids="24″ display="basic_thumbnail" thumbnail_crop="0″]