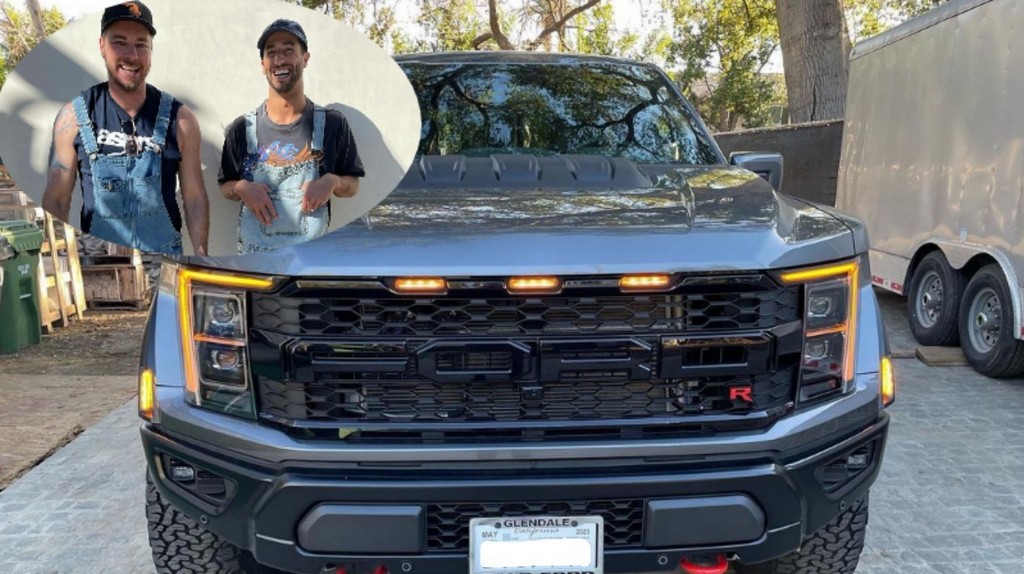 Dax Shepard Introduces His Ford F-150 Raptor R, Daniel Ricciardo Loves It
Dax Shepard has proudly introduced his new, supercharged pickup truck. It's a mighty Ford F-150 Raptor R, and one of its biggest fans is Formula 1 driver Daniel Ricciardo.

Shepard, who is an actor, comedian, and podcast host, has always been very vocal about his passion for cars. He doesn't just buy them and moves on to the next, but he also likes getting involved in upgrading and restoring them.

His garage hosts a 1967 Lincoln Continental, a 1990 Chevy 454 SS, a Chrysler Pacifica, a 1994 Buick Roadmaster, but also a Mercedes-AMG E 63 S Wagon. Plus a few motorcycles.

He has just introduced everyone to his latest ride, a powerful Ford F-150 Raptor R, and showed his excitement over the pickup truck writing, "insert Jaws theme song here." And he also promises that the car won't remain in its stock form, writing, "stay tuned for mods."

The Ford F-150 Raptor R is one hungry beast, and that's all because of its 5.2-liter supercharged V8 unit borrowed from the Mustang Shelby GT500, Ford's most powerful production series. That is more than enough for an output of 700 horsepower at 6,650 revs per minute and a torque of 640 lb-ft (868 Nm) at 4,250 rpm, sent to all wheels via an electronic ten-speed automatic transmission.

The Raptor R Equipment group adds a $30,575 extra charge on top of its $76,775 starting price, coming with black exterior accents, a unique Raptor R grille with an "R" badge, code orange tow hooks, carbon fiber interior features, black Alcantara suede, and leather RECARO seats.

It also came with stock 17″ Forged Aluminum Bead-Lock Capable wheels, but one look at the post's comment section reveals that HRE Wheels' official page, his go-to aftermarket wheel manufacturer, let him know that they have "the shoes ready."

However, it looks like Dax Shepard's supercharged pickup declined the black and orange side decals, going for a Carbonized Gray Metallic look instead. So, given all these features, we can't help but wonder what is coming, besides new wheels.
Even Daniel Riccardo loves it
One of the top comments on Dax Shepard's post about his Ford F-150 Raptor R was Daniel Ricciardo's. The Red Bull Racing reserve driver is a close friend of Shepard's and his wife, actress Kristen Bell, and they often make appearances on each other's social media.

Besides being a huge car fan, Shepard is also a very dedicated Formula 1 fan. He became "obsessed" with Formula One after watching Netflix's Drive to Survive and even had Ricciardo on his podcast, Armchair Expert. At one point, Shepard even flaunted a Formula 1 single-seater in his driveway, so a friendship to Ricciardo is not surprising at all.

In this case, Ricciardo admitted that he "drove one yesterday," adding that it was "soo good." He also added, "I'm excited for you. I'm excited for us. Pick me up later."
[ngg src="galleries" ids="16″ display="basic_thumbnail" thumbnail_crop="0″]
Article Credits: Monica Coman
Full Articles: https://www.autoevolution.com/news/dax-shepard-introduces-his-ford-f-150-raptor-r-daniel-ricciardo-loves-it-210185.html