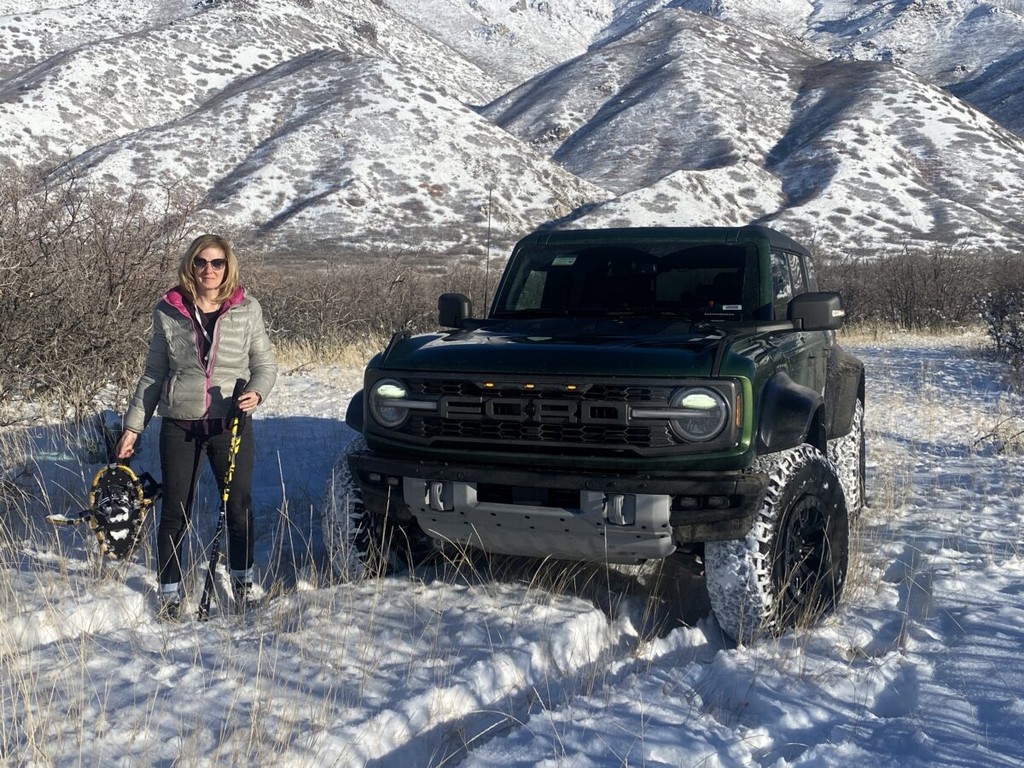 Sunday Drive: Ford Bronco Raptor – What's old is new again!
Christmas came early for us in 2022 when a Ford Bronco arrived on Dec. 14. It was our first time with one here in Utah and, even more importantly, it came in the form of the very hard-to-find "Raptor." With the introduction of the Bronco, Ford has conjured up all kinds of past memories and feelings for us of being teenagers and spending time in the foothills with our friends.

The new Bronco is just that — a testament to its past but injected with just enough modernness for it to really stand out in today's crowd. We fell in love with the Bronco's headlights and boxy look after spending a week using it to get around in one of the largest storms we have seen here in Utah in the past few years.

Even with all the snow and bad weather, we had folks stopping us wherever we went to check out the Raptor version of the Bronco, as there are not yet many of them in Utah. It has a wider stance, is slightly longer and sports a larger engine, making it stand out from the norm. Its 3.0-liter twin turbocharged engine gives the Raptor 418 horsepower and 440 foot-pounds of torque.

We considered taking a quick trip down to Moab to really get in some off-road time in the Raptor, but with it being only a week until Christmas, that was not to be. After three days of snow and bad weather at our home in Springville, however, we saw our opportunity when Saturday dawned as a bright, sunny day.

There was no way we were going to miss going off-road with the Bronco, even if it meant simply getting into some deep snow conditions in the foothills of Utah Valley. We ended up on a mountain above Santaquin headed to some property that Craig's mother owns. Even in the summer, it takes a good four-wheel-drive vehicle to reach it.

The Bronco had no problems getting there even though we sometimes had snow up to the running boards. We plunged through it all and even went further than Mom's property and onto Forest Service land. We got into some very deep ruts and slippery conditions; at one point we ended up sideways on the road with our back wheels stuck in a rut and the front wheels headed uphill.

For many off-road vehicles, this would have been the time to call an off-road rescue team for some help, but we figured it was worth at least trying to climb out using the Bronco's four-wheel-drive low setting to see how it would perform in this challenging situation of our own creation.

One needs to remember that the Raptor comes standard with some of the largest wheels one can get on a factory vehicle: 37 inches. We believed those wheels would likely provide all the traction we needed to get out.

After putting the Ford into low range, it was just like a "Sunday Drive" to get it up and out of the rut and into a small clearing filled with snow. There, we turned around and headed back downhill, figuring it was better to be safe than sorry and really have to call someone to come up on the mountain and get the Bronco out of a bad spot.

Another great feature that was highlighted during this experience was the huge 12-inch infotainment screen. When we shifted into neutral and put the Bronco into low range, the screen projected our forward path, with wheel marks showing where the Bronco would go. What a great addition! If we had been in Moab, we wouldn't have constantly needed a spotter to guide us through tight places. We were also able to get all kinds of different angles on the screen, from back to sides and front.

Deanne got in some awesome snow shoeing while we were up in the 20-plus inches of snow on the mountain, and it was a beautiful afternoon to be there. It almost made up for the fact that we were not down in Moab. Almost.

Having the hard top on the Bronco seemed like a very appropriate option here in Utah where the winter days can get very cold indeed. The heated seats were extremely comfortable and we found ourselves turning down the heat at times as it got to be a little too much after the Bronco warmed up during the cold winter mornings.

We loved the way it handled, even on the freeway at high speed. The independent front suspension made all the difference in the world when it came to handling, especially when we thought of some of our longer outings in the Bronco's main competition, the Jeep Wrangler. It was very well-mannered and easy to maneuver, something that can be quite a chore in the Wrangler at higher speeds.

The Bronco came with some of our favorite options on the safety side, including adaptive cruise control, which also made freeway driving more enjoyable. Along with that were parking sensors and blind spot monitoring.

The top was easily removed along with the doors, which would allow the Raptor to provide a great summer driving experience. This is something that would rank high in our books as owners of such a rugged off-road SUV.

After a week, we felt completely comfortable in the Raptor, no matter what the occasion called for. Whether there's lots of snow on the road or you're enjoying a fun weekend adventure in the backcountry, the Raptor would be ready for any of it.

Our test ride was a pre-production model with no pricing available. The Raptor is set to start at $73,780.
Article Credits: Craig and Deanne Conover – Daily Herald
Full Articles: https://www.standard.net/lifestyle/home_and_family/2023/jan/07/sunday-drive-ford-bronco-raptor-whats-old-is-new-again/