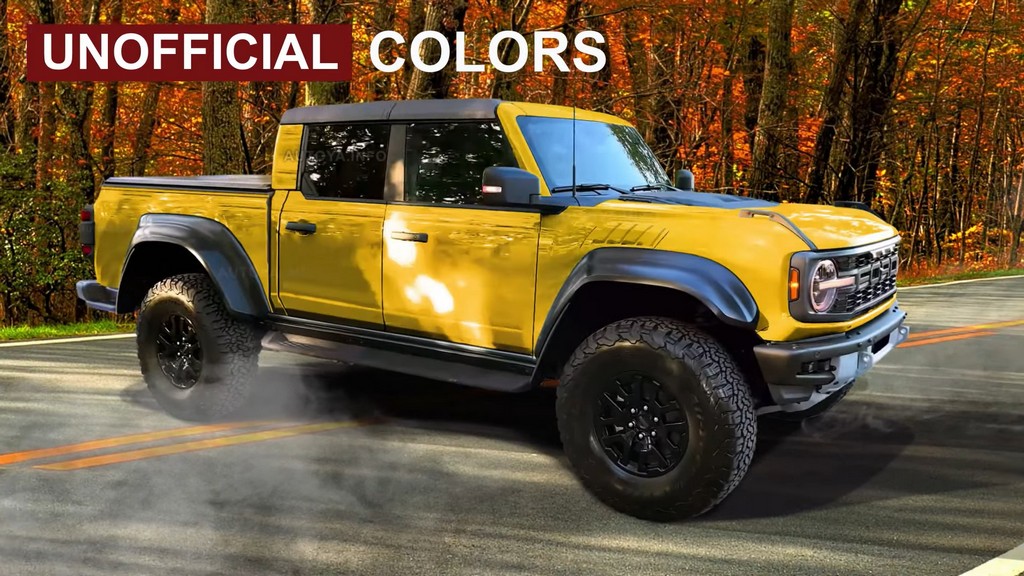 2024 Ford Bronco Raptor CGI Pickup Truck Seems Ready for a Jeep Gladiator Brawl
Over the decades, the Blue Oval company has allowed its renowned Ford Bronco nameplate to incur great changes – all destined to fulfill the needs of the U.S. car market at the time.

The original Ford Bronco was born as the first SUV model developed by the second-largest U.S. automaker. In production since 1965 (around the same time the company's Mustang was establishing the pony car sector), the rugged series had an uninterrupted stint over five generations, until 1996. During that time, it quickly morphed from the initial compact SUV offering produced on a dedicated platform that was set to compete with the similarly-sized Jeep CJ-5 International Harvester Scout and Toyota Land Cruiser in three-door SUV, two-door pickup truck and no-door 'roadster' form.

As such, beginning with the second generation in 1978, and until its initial demise in 1996, the Ford Bronco settled on the three-door SUV body style and transformed into a short-wheelbase adaptation of the 4×4 Ford F-Series pickup trucks. That was because the Blue Oval Company wanted to compete with old-school full-size SUVs like the Jeep Cherokee, Chevrolet K5 Blazer, or Dodge Ramcharger. Then, after a 25-year hiatus, the nameplate returned – and it was changed again.

Reinvented for the sixth generation beginning with the 2021 model year, the Ford Bronco again got remastered as a mid-size SUV with two-door and four-door convertible SUV body styles. This time, it did keep the close affinity with a pickup truck, only it is the T6 Ford Ranger, now. Plus, it also has a trio of feisty engines, the 2.3-liter EcoBoost inline-four with 300 hp, a 2.7-liter twin-turbo V6 good for 330 hp, and the Bronco Raptor's 3.0L EcoBoost TT packing no less than 418 hp!

So, it would not be too hard to imagine that it would be easy for Ford's engineers to adapt the four-door Bronco into a mid-size pickup truck. Also, it does not make much sense, at least not in the real world – where America is eagerly expecting the all-new Ford Ranger, complete with a feisty Raptor trim. Alas, that does not mean the dreamy realm of digital car content creators cannot express their visions of a Jeep Gladiator rival.

As such, meet the good folks over at the AutoYa info channel on YouTube, who have recently imagined the CGI looks of the unannounced Ford Bronco pickup truck – in Raptor guise, of course. As always, do take all this with a pinch of salt until there's an official word from the automaker on the matter. Still, I admit that a hypothetical Ford Bronco Raptor pickup truck looks utterly rugged and ready for some mighty dune-bashing plus rock crawling in many of the unofficial colors shown in the video below.
[ngg src="galleries" ids="14″ display="basic_thumbnail" thumbnail_crop="0″]
Article Credits: Aurel Niculescu
Full Articles: https://www.autoevolution.com/news/2024-ford-bronco-raptor-cgi-pickup-truck-seems-ready-for-the-jeep-gladiator-brawl-209174.html