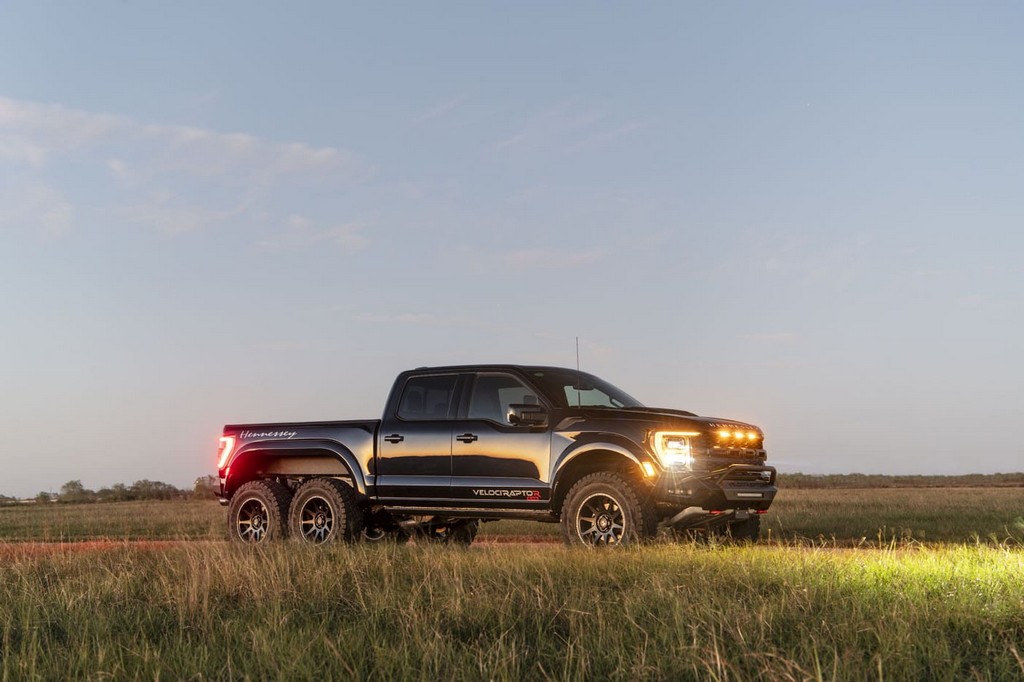 Hennessey Roars into Production with the VelociRaptoR 6X6: Unleashing a 700-HP Off-Road Marvel
Hennessey, the powerhouse in hypercar manufacturing and performance vehicle evolution, proudly announces the official production launch of its groundbreaking 'VelociRaptoR 6X6' supertruck. This extraordinary creation takes the Ford F-150 Raptor R as its canvas, transforming it into an indomitable 6X6 force, equipped with a supercharged 5.2-liter V8 engine, six-wheel drive capability, and an array of performance enhancements.

Key Features:
Potent Powerhouse:
Harnesses the untouched power of the Ford Raptor R's supercharged 5.2-liter V8 engine.
Commands a formidable 700 bhp @ 6,650 rpm and 640 lb-ft torque @ 4,250 rpm.
Off-Road Mastery:
Incorporates six-wheel drive for superior tractive grip, elevating traction by over 50 percent.
Features Live Valve Fox dampers, setting the standard for advanced off-road suspension.
Imparts an impressive 3-inch lift for conquering diverse terrains.
Enhanced Utility:
Boasts an extended boxed frame with an additional locking rear axle for heightened off-road capabilities.
Showcases an expansive 8-foot (2.4 meters) long cargo bed, replacing the stock 5.5-foot bed and amplifying cargo capacity by over 45 percent.
Aesthetic Brilliance:
Adorns new front and rear bumpers, enhanced by LED off-road lights and distinct Hennessey VelociRaptoR badging.
Features custom 20-inch alloy wheels ensconced in 37-inch off-road tires.
Formidable Dimensions:
The 'VelociRaptoR 6X6' stands as a towering presence, measuring nearly 27 feet in length, 7 feet in height, and 7 feet in width, with a curb weight of approximately 6,500 pounds.
Warranty Assurance and Global Availability:
Backed by Hennessey's all-encompassing 3-year / 36,000-mile warranty.
Open for international shipping, enthusiasts can place orders through authorized Ford retailers or directly with Hennessey.

John Hennessey, Founder, and CEO Perspective:
"The F-150 Raptor R is formidable right off the assembly line, but our 6X6 upgrade transforms it into something extraordinary. With 50 percent more driven wheels, increased utility from the 8-foot bed, and the symphony of a roaring V8, it commands attention like never before!"

Hennessey's Rich Legacy:
Recognized as the world's largest producer of modified Ford F-150 Raptors, Hennessey continues to set the benchmark for performance upgrades since 2009.
Extensive portfolio includes exclusive 6X6 trucks like the RAM-based MAMMOTH 6X6 TRX and Chevrolet-based GOLIATH 6X6 Silverado.
Conclusion:
Hennessey's 'VelociRaptoR 6X6' stands as a testament to relentless automotive innovation, seamlessly blending power, off-road dominance, and an awe-inspiring presence. As production officially commences, automotive enthusiasts across the globe can embark on an exhilarating journey with this six-wheeled marvel, backed by Hennessey's unwavering commitment to excellence in performance and quality.