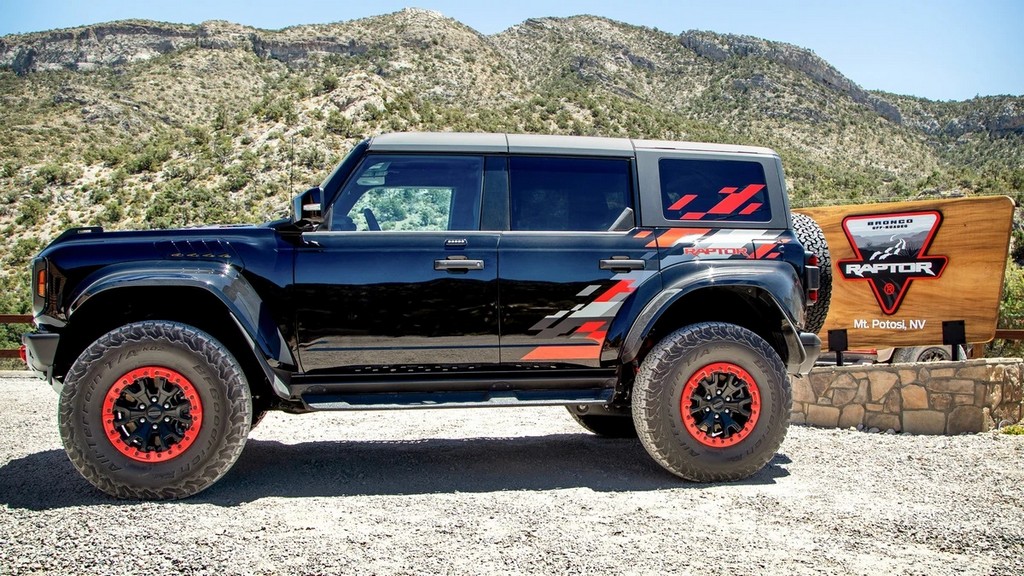 Ford Celebrates 58 Years of the Bronco with Exciting Updates
In 2024, the legendary Ford Bronco marks its 58th anniversary, and to celebrate, Ford is unleashing the Bronco Raptor Code Orange Package, injecting a vibrant burst of color into the high-performance trim of this iconic off-roader.

The Code Orange Package, a special tribute to the Bronco's enduring legacy, is set to turn heads with its eye-catching details. It includes striking graphics on the rear fenders, bold orange tow hooks, vibrant orange beadlock rings adorning the wheels, and, for an extra pop of color, orange seatbelts that add a playful yet rugged touch to the interior.

But that's not all the Bronco Raptor has in store for its birthday celebration. In addition to the Code Orange Package, the Raptor trim is now offering painted fender flares as an option, allowing enthusiasts to further customize their Broncos. To enhance the palette of choices, Ford introduces two new exterior colors for the 2024 model year: Velocity Blue Metallic, previously exclusive to other Bronco trims and the Bronco Sport, and Shelter Green. The latter is a nod to Ford's wartime contributions during World War II when it played a crucial role in manufacturing Army Jeeps alongside American Bantam and Willys, the latter of which would go on to trademark the name for civilian vehicles.

Underneath its vibrant exterior, the Bronco Raptor packs a punch. While other Bronco trims offer the choice of a 275-horsepower 2.3L EcoBoost four-cylinder or a 2.7L EcoBoost V6 producing 315 horsepower, the Raptor, introduced in 2022, is powered by a robust 3.0L EcoBoost V6 engine. This powerplant churns out an impressive 418 horsepower and a formidable 440 lb-ft of torque, ensuring that it can handle any off-road challenge or on-road adventure with ease. The Raptor also boasts Fox internal-bypass dampers, a remarkable maximum wheel travel of 330 mm (13 inches) in the front and 355 mm (14 inches) at the rear, and it rides on 17-inch wheels wrapped in 37-inch all-terrain tires.

For those seeking even more personalization options, Ford Performance has partnered with Method Race Wheels to offer four new 17-inch wheel designs in a range of finishes, including white, matte grey, bronze, and matte black. These wheels, available through Ford Accessories, allow Bronco enthusiasts to fine-tune their vehicle's appearance to match their unique style.

The original Ford Bronco made its debut in 1966 as a competitor to other light-duty off-roaders of its era, such as the International Scout and the Jeep, which was then under the Kaiser-Jeep banner. After a successful run, the Bronco was discontinued in 1996. However, its spirit lived on, and the modern iteration of the Bronco returned in 2021, offering both two-door and four-door configurations and paying homage to the original's iconic styling. In 2023, Ford introduced the Heritage Edition trims, featuring color schemes reminiscent of the early Bronco models, further deepening the connection between past and present.

In addition to the Bronco Raptor updates, the 2024 Bronco lineup brings some noteworthy changes across the board. All Bronco and Bronco Raptor models now come standard with a generous 12-inch touchscreen featuring the Sync 4 operating system, delivering a seamless and intuitive infotainment experience. Furthermore, the Badlands trim will include a heavy-duty modular front bumper as standard equipment.

For Canadian enthusiasts eager to get behind the wheel of the 2024 Bronco, orders will open in September, with pricing details expected to be announced closer to the release date. As the Bronco family continues to evolve and expand, it remains a beacon of adventure and off-road capability, staying true to its storied heritage while embracing modern technology and customization options.