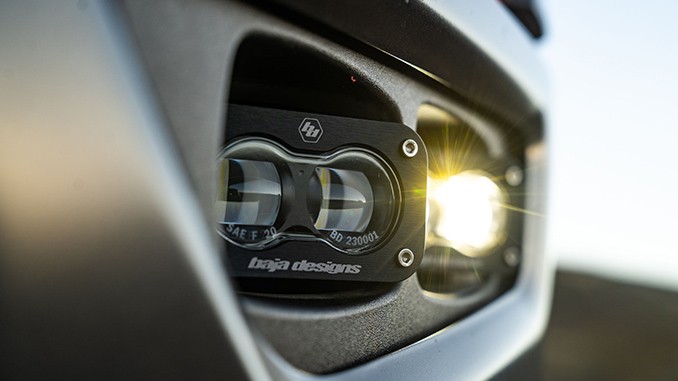 Baja Designs Revolutionizes Road-Legal Fog Lights with the S2 SAE
Setting a New Standard in Illumination and Versatility

SAN MARCOS, CA – August 3, 2023 – Baja Designs, the vanguard of performance off-road LED lights, is proud to unveil their latest innovation: the Baja Designs S2 SAE. With this groundbreaking addition, the company is redefining the landscape of performance lighting, offering an unparalleled blend of power, precision, and adaptability for road-legal fog lights.

Elevating visibility to new heights, the Baja Designs S2 SAE boasts an astounding 1210 Lumens per light, casting a brilliant and crisply defined path ahead. Featuring cutting-edge aspheric projector optics, these fog lights project meticulously controlled light patterns with razor-sharp cutoffs, ensuring optimal visibility while adhering to SAE J583 fog requirements. For added versatility, the S2 SAE is available in both amber and clear variations.
Key Features of the S2 SAE:
1210 Lumens per light
Aspheric projector optics
Plug-and-play compatibility with numerous OEM fog lights
Precise light pattern with sharp cutoffs
Offered in amber and clear options
Sold as a pair, starting at $289.95

A standout feature of the Baja Designs S2 SAE is its compact form factor and adaptability. Measuring a mere 2.93 inches, the S2 SAE stands as one of the most versatile and compact lights within Baja Designs' illustrious lineup. Available as a pair starting at $289.95, each set includes universal mounting hardware and a standard wiring harness.

Recognizing the significance of tailored lighting solutions, Baja Designs designed the S2 SAE specifically as a road-legal fog light. While it emits an impressive 1210 lumens, it is meticulously engineered to excel in on-road applications. For those seeking off-road prowess, Baja Designs suggests exploring their S2 Pro or Sport models.

To cater to specific vehicle needs, the S2 SAE is now available in application-specific kits for popular vehicles. These kits offer seamless integration and straightforward installation, comprising mounting brackets, wiring, harnesses, and essential hardware. This streamlines the process for enthusiasts to experience high-performance lighting without intricate modifications.
Application-Specific Kits Cover:
2021-2022 Ford Bronco
2019-2023 Ram 2500/3500
2019-2023 Toyota Tundra and Sequoia
2017-2020 Ford F150 Raptor
2021-2023 RAM TRX and Rebel
2021-2023 Ford F150 Raptor

Elevate your driving experience with the Baja Designs S2 SAE and embrace unparalleled lighting performance. For comprehensive information on the S2 SAE and to explore Baja Designs' full spectrum of lighting solutions, email us at sales@raptor-parts.com. Experience the future of road-legal fog lights, where illumination meets innovation.