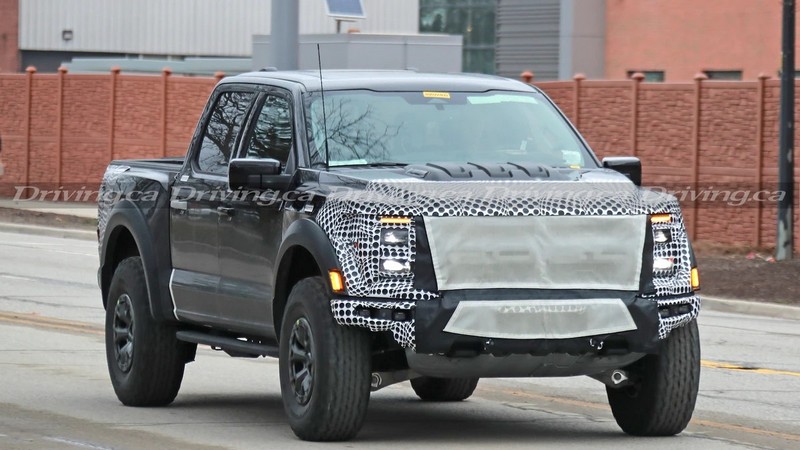 The 2024 Ford F-150 Raptor R may already be getting a facelift
Judging by these spy photos out of Michigan, the just-released off-road monster could be getting an early nip-and-tuck
Spy shots suggest lighting changes are in store for '24 for the Raptor R
Beyond what we can see, a revamped interior is expected
The timing has us wondering: Could we see it at the Chicago Auto Show?

Major truck manufacturers don't tend to rest on their laurels for very long, often choosing to introduce a small styling tweak or powertrain tune in order to keep the rig fresh (and beat their competition over the head with a steel chair, natch). Perhaps unsurprisingly, then, it appears that Ford is deploying this trick with its just-released F-150 Raptor R.

Our photographers caught this mildly camouflaged Raptor R plying the streets of Michigan, roaring about in all its V8 glory. This type of skin-tight camo on a vehicle's front and rear ends generally suggests some mild appearance changes are in the offing, ones which will surely be examined by future Barrett-Jackson bidders fifty years from now.

Alterations to the forward-facing lighting signatures are likely, as are a new grille style and fog lamps. However, we feel that whatever iteration next year's grille entails, it'll surely have an enormous F-O-R-D billboard stretched across its width. After all, one wouldn't want their buddies to mistake this for a Chev would they? Or, heaven forbid, a Ram? Pass the smelling salts.

Peering closely at those taillamps, it's easy to see a new lighting pattern etched into the lenses, forming one long snake of light instead of the bifurcated style presently in use. That small stack of LEDs in the lamp's inside corner could be part and parcel of Ford's existing nifty payload sensor, one which lights up like the bars on a smartphone as weight is loaded aboard the truck. Presently, those indicators are halfway up the inside edge of the lamp. There's every chance in the world that more pedestrian trims of the 2024 F-150 will earn these new blinkers as well.

Whilst our eagle eyes on the ground weren't able to spy a good shot of the test mule's interior thanks to a dose of heavy camo in this truck, it is expected the 2024 F-150 will receive numerous updates in this area. Spendy trims are likely to earn the enormous vertical touchscreen which is quickly spreading across the brand and already found in certain iterations of the Expedition and F-150 Lightning.

If so, we hope Ford programmers find a way to make the screen's physical dial, which resides near its lower edge, good for more than just volume tuning; permitting it to dynamically adjust the cabin temperature or radio tuning when those commands are called for would be a lot better than having to jab at a screen with an outstretched index finger.

With the knowledge gleaned from these shots, it is not unreasonable to expect this refresh to surface in the first half of this year — perhaps at the truck-centric Chicago Auto Show next month.
[ngg src="galleries" ids="11″ display="basic_thumbnail" thumbnail_crop="0″]
Article Credits: Matthew Guy
Full Articles: https://driving.ca/auto-news/news/2024-ford-f-150-raptor-r-spy-shots-new-facelift-chicago