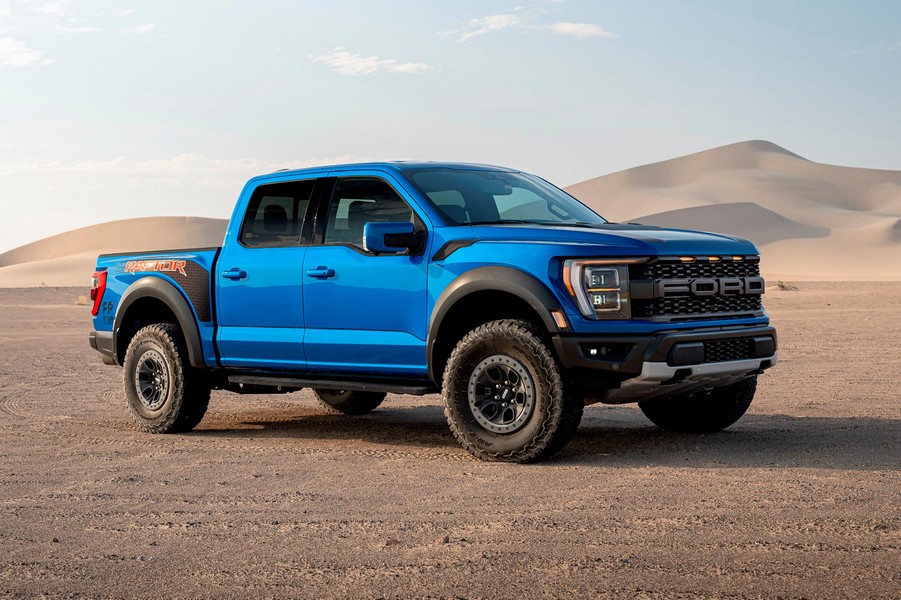 Is The 3rd Generation Ford Raptor The Perfect Off-Road Truck?
For drivers looking for a truck that can tear it up on the streets as well as on the trail, the Ford F-150 Raptor is hard to beat. It's a now-legendary off-road platform that is capable of anything you can throw at it, from rock crawling to high-speed dune-hopping.

EcoBoost V6 Takes You There With Power & Economy
You can get rolling fast on with the 3.5L twin-turbo EcoBoost V6 engine. It caters to all driving styles, from wild to mild, and does it all without devastating you at the gas pumps. The signature Ford PFDI (port fuel direct injection) fuel delivery system and buttery-smooth 10-speed transmission drive the 450 HP and 500+ ft. lb. of torque you need to do what you want. You get raw power, an unbeatable economy, and some of the best technology in the auto industry, at a relatively reasonable price.

Intense Suspension Keeps You In Touch With The Trail
The F-150 Raptor features extra-long trailing arms on the 5-link rear suspension system to make sure your tires stay where you need them. Even on the roughest terrain the massive 24-inch coil springs and Panhard rod work overtime to keep your power on the trail.
The shocks on the Raptor are some of the biggest in the Ford lineup, and leverage next-gen FOX Live Valve internals, complete with electronic control. These shocks eat up the heat and impact of high-speed off-roading and allow microsecond adjustments to your handling on the fly. At desert race speeds, they can negate more than 1,000 pounds of impact per wheel. This is all combined with some of the most cutting-edge engine management software to make sure that power goes to the wheels where it can be best utilized, letting you come off the line faster, steepen your acceleration curve, and ensure the highest degree of throttle response that you've seen in any F-150.

Performance & Trim Packages For Every Taste
No matter what you plan to do with your Raptor, there's undoubtedly a trim or accessory package for it. There are packages for everything from simply looking great, to conquering the trails, to hosting a portable work site.

Raptor 37 Performance Package
If you want to hit the trails with the biggest tires available from the factory, this is the package for you. Your Raptor will come with massive 37-inch BFGoodrich All-Terrain A/T KO2 tires. These are the largest factory-equipped tires you can get on any light-duty production pickup. This top-tier rubber comes mounted on 17-inch aluminum Beadlock wheels, so you're always ready to air down if needed.

Tow Technology Package
For those that need to lean on the EcoBoost to tow, whether it's toys or for work, the Tow Technology Package puts all the right components in the cockpit. You'll have a 360-degree camera, Pro Trailer Backup Assist, and a trailer brake controller. The Trailer Reverse Guidance lets you fine-tune your reverse with a special dial on the dash so that you're always backing up at the perfect angle.

Raptor Carbon-Fiber Package
Adding the carbon-fiber package outfits your Raptor with super-sleek, low-gloss, black tint, and carbon-fiber accents. You'll see these accents everywhere from the glove box to the dash and bezels, media door, and door applique.

TORSEN Package
When you take your Raptor off-road, one of the most essential things you'll need is traction, and for that, you'll want the TORSEN package. You get all the traction and power of a TORSEN limited-slip front differential, which keeps the power of the engine focused when the going gets tough. On top of that, this package includes Rigid LED lights to provide additional illumination on the darkest of trails.

Raptor Convenience & Power Tech Package
Sometimes the most challenging thing our trucks can do is simply keep up with our work needs. These packages include a fold-open interior work surface, so you'll always have a desk with you, and the navigation system to get you there. The Power Tech package turns your EcoBoost into a portable 2kW generator, so you can run just about anything you need at the job site, while the Tailgate Work Surface gives you clamp area, tie-downs, and more to get the job done.

Proven Performance Straight From The Factory
Since the debut of the F-150 Raptor line in 2009, it has been one of the most popular off-road platforms and has placed in event after event. It's been seen in the winner's circle at major events like the SCORE Baja 1k, Dakar, and the famous Mint 400.

With the 2022 Raptor ushering in the 3rd generation of this amazing beast, owners can expect the same groundbreaking performance with an all-new facelift. The EcoBoost V6 provides all the power this beauty needs, without being a gas-chugging V8, even though many would have at least liked to have the engine bag-hogging option.

What Else Could You Want?
We all know that nothing comes from the factory exactly as we want it, so with that in mind, there are some improvements you could make to your Raptor when you take delivery. Some may require more than just a few hours in your garage, but they'll all improve upon a platform that's already incredible.

If you plan to take your Raptor into some challenging terrain, you'll want to make sure you've got adequate protection. Simple customizations to start with would be things like mud flaps to reign in that gravel and mud spray, and some wheel well liners to help keep things like dust, sand, and salt from taking their toll on your undercarriage.

More involved mods would include skid plates to protect your underbelly from rubbing, high-centering, and more. The factory does put on some minimal plating, but aftermarket plates will be much more substantial, just be aware that they'll add more weight if that's a concern for you. To go along with this, a performance cover for your rear differential can keep your gears turning even after some serious crunches.

If you tend to push your shocks to their limits, either with speed or raw impact, you may want to look at aftermarket bump stops. The FOX shocks on the 3rd gen Raptors are nothing to scoff at, but when you push yours to the limits, it's nice to have a little insurance policy at full compression. These can be relatively simple to install in most cases.
[ngg src="galleries" ids="1″ display="basic_thumbnail" thumbnail_crop="0″]