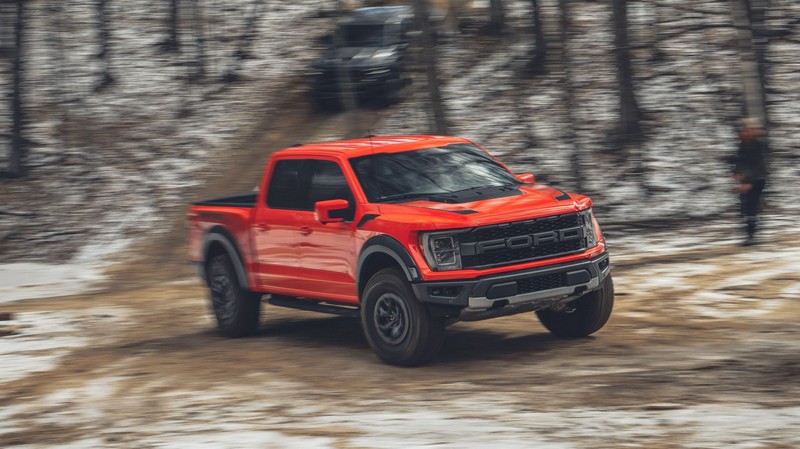 New Ford F-150 Raptor
The Ford Raptor F-150 is a newly styled Ford model that exudes sophistication; thanks to its design and special engine management software. It boasts comfort, smooth handling stability, and speed while providing better throttle responsiveness and faster acceleration from the back wheels.
It possesses an adjustable sensitive damping system and is designed to resist heat build-up while driving through desert terrain. It also allows for a quick reaction to terrain changes, ranging from mild to wild, for which the credit goes to the super electronic state-of-the-art control technology.
Off-road running is a whole new experience with the new Ford Raptor.
The new model is offered in a choice of customizations that array from simple to luxurious and comes with a long list of functional improvements over the previous generation. It comes with an optional dealer installation.

The Exciting Features of the New Ford F-150 Raptor
The Ford Raptor has special features like a spare tire and wheel lock, an anti-theft and post-crash alarm system, and an advanced security pack with a security code keyless entry on the driver's side for safety reasons. It alerts you to a potential frontal collision and can instantly apply the brakes.
Another safety feature is the lane aid which gently steers the car to stop it from accidentally drifting into another lane. The adaptive cruise control guides the driver in maintaining a predetermined distance from the vehicle in front by adjusting speed. It can halt and restart as traffic picks up speed.
It includes options that the dealers can install if you so wish. A storage box, a first aid kit is bearing the Ford logo, a trailer camera, a bed mat, equipment for locking the wheels, and a vehicle safe in the interior by the console vault.

The Exterior of the New Ford Raptor
The Ford Raptor 2022's bodywork is designed with safety in mind. It has high-beam headlamps that can automatically turn on or off based on the signals. The headlamps also have rain lens wipers that can be turned on. Some of its additional safety external features are power locks, LED box lighting with zone lighting, LED mirror-lit spotlights, and auto hold.
Power sliding glass windows with a defroster, a privacy tint, and all terrain tires are included as standard. The standard mirrors have heating, lighting, power folding, and adjusting capabilities. The Ford Raptor 2022 also has a spare tire carrier with a rare underframe as part of its standard features.
Fog lights, special 17-Inch forged aluminum wheels painted in black with bead-lock capabilities and a glossy appearance, a twin-panel moonroof, and a bendable pickup box bed extender are optional additions on the exterior that improve convenience.

Design of the Interior
The interior design is magnificent, with a leather-trimmed bucket seat at the front and an incredibly elongated cushion with a split bench at the rear. It has an intelligent entry system with a push-button start, a display of the outside temperature, and lane-keeping technology.
The inside is protected by a 360-degree video system and automatic temperature management that adjusts the vehicle environment in line with the weather condition. Additionally, it boasts a forward-detecting system, rain-sensing wipers, and trailer reverse guiding.
The airbags and side curtains come standard with roll stability, curve control, and a monitoring system that measures the tire pressure. It has a remote drive system and safety belts with adjustable heights. Ambient, dome and fade-to-off interior illumination are used to brighten up the mood of the car and improve its aesthetic.
The Ford Raptor boasts a standard 12-inch capacitive touchscreen with improved speech recognition, so entertainment is not neglected. It offers the option of a loud sound system and a good internet connection via a 4G WiFi Hotspot. It doesn't neglect to stake out its claim by sporting special raptor-branded all-weather floor mats made from rubber and a special leather-wrapped with thumb pads steering wheel.

Engine Power and Performance 
The new Ford Raptor has a two-speed automatic four-wheel drive system, with neutral towing capability for the 4×4 model. It uses automated technology that controls when the vehicle is to start and stop, an exhaust dual with tailpipes under the bumper, and an active valve exhaust system.
The Ford Raptor 2022 allows drivers to select from various drive modes – normal, sport, tow, haul, slippery, off-road, Baja, and rock crawl. It provides a long-travel suspension with unique front upper and lower control arms and unique tie rods as the engine is brought to cool, ready to pick up immediately from where it stopped.
The vehicle runs with a 36-gallon fuel tank capacity. A select shift automatic transmission allows for a progressive range of select and paddle shifters. An active restraint system, post-collision, and pre-collision braking are provided with an emergency brake. Additionally, adaptive cruise control with traffic congestion help is available. Trailer sway and trail control with an option of an integrated trailer brake controller is a noticeable feature.
The Ford Raptor 2022 uses a high-output V-6 and 3L Ecoboost engine with an electronic 10-speed automatic transmission.

How Much is a New F-150 Raptor?
For a three-seat regular cab, the Ford Raptor starts at a very low base price of $29,990. Depending on the features it is loaded with, the 2022 F-150 raptor ranges from $38,920 – $80,435. The last model, the 2021 Ford Raptor, had a price range of $37,000 – $74,600.
A high-performance new Ford Raptor 2022 for sale costs $68,675, and the range-topping starts at $72,350 and is limited to $75,835 – $80,435.

Pros and Cons
Pros
– Availability of an onboard power source 
– Impressive off-road performance
– Availability of two large-sized tire
– Excellent security system 
– A variety of engines, including forthcoming full electric and gasoline hybrid options
Cons
– It operates on a poor fuel economy
– The truck is excessively large
– The pricing is not consistent 

Conclusion
According to car dealers, it is unlikely that the Ford F-150 Raptor will undergo any big alterations for the 2022 model, given that it has just undergone a complete redesign. Considering the power and brilliance of the new Ford Raptor F-150, will there be a 2023 Ford Raptor? Yes, there will be the most powerful high-performance Ford Raptor that has ever existed, owing to the impressive supercharged V-8 engine. While many elements remained unchanged, they were enhanced and made better.
The 2023 Ford Raptor allows for a better experience while traveling worldwide as it is permitted to climb over obstacles. The future Ford is best designed for places with no roads, having amazing off-road durability. Prepare for the exciting presence and powerful stance of the Ford Raptor as you explore at full speed.