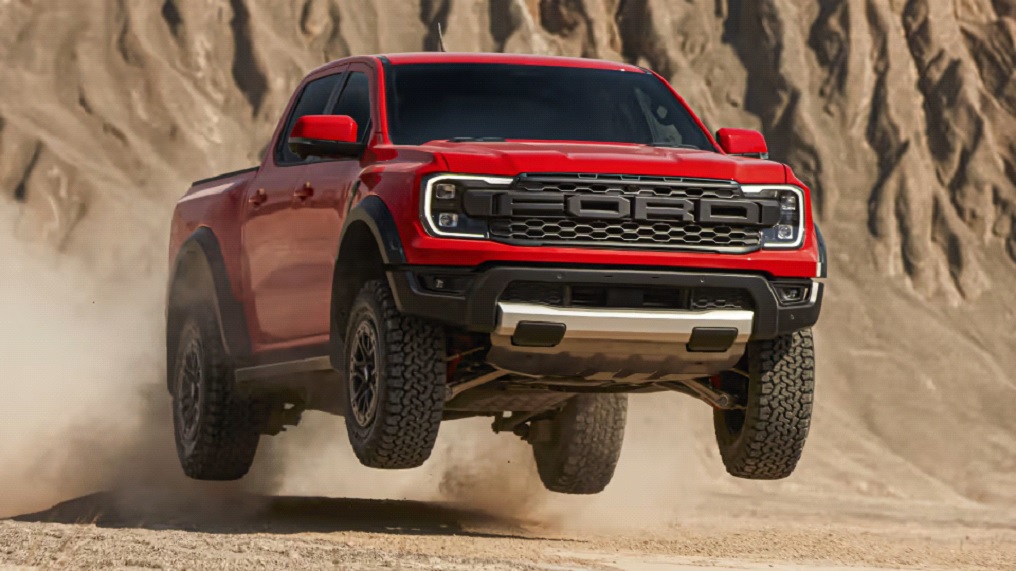 Ford Ranger Raptor V6 diesel
The highly anticipated all-new Ford Ranger Raptor is almost here, and it definitely doesn't disappoint. This new model features a beefed-up suspension system, a more powerful engine, and a host of other improvements that make it the most capable off-road truck in its class

Engine
The biggest change for the new Ranger Raptor is under the hood, where it now sports a 3.0L V6 diesel engine. This gives the Ranger Raptor a significant power boost over its predecessor and makes it more fuel efficient. The new engine is mated to a 10-speed automatic transmission, which helps the Ranger Raptor get the most out of its power. When properly equipped, the Ranger Raptor can tow up to 7,500 pounds. Unfortunately, there are considerably fewer genuine SUVs with genuine mechanical all-wheel drive, differential locks, and robust suspensions. Fortunately, Ford has guaranteed that this indigenous species will grow and gain market share. Not only that, but they also handed it over to their aggressive Ford Performance department and basically gave them total creative control.

Upgrades Upon Upgrades
Ford Performance began by replacing the leaf spring rear suspension with a Watts suspension consisting of Fox Racing shocks that allow compression and rebound adjustment.
The front suspension was reinforced with these new, thicker shock absorbers and wider wheel tracks, which had larger 285/70 R17 all-terrain tires.
The Ranger Raptor looks like a "muscle truck" with its extremely wide fender extensions and load-bearing steps on the thresholds. It also has a powerful mask with a massive Ford inscription that protects the engine and chassis in front.
The grey-colored plastic typically seen on SUVs is nowhere to be found here. Rather, a 2.3 mm metal plate protects the Raptor, making it sturdy enough to withstand jumps without fear.
In fact, the entire chassis has been reinforced and adapted accordingly to endure any additional loads or impacts during its harsh journey.
Aside from the redesigned suspension components, the new Raptor also has larger wheels with a wider wheel track and more wheel travel in the fenders. All of these modifications are immediately apparent when driving, so the Raptor feels like a completely different vehicle than the regular Ranger.

Ford Ranger Raptor Specs
⦁ Height – 1922 mm
⦁ Width – 2028 mm
⦁ Length – 5381 mm
⦁ Wheel track – 1710 mm
⦁ Ground clearance – 272 mm
⦁ Tires – All-terrain BF Goodrich – 285/70 R17
⦁ Engine: 3.0L V6 diesel engine producing 392 hp and 430 pound-feet of torque
⦁ Gearbox: 10-speed automatic
⦁ Price – $85,490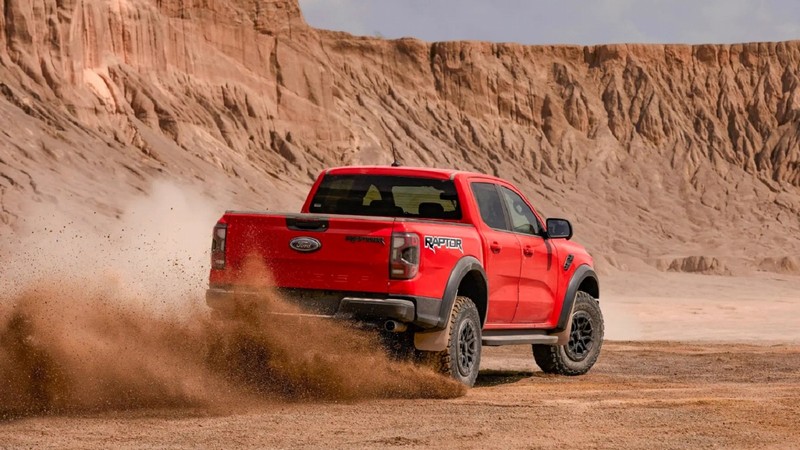 The Ranger Raptor's rear is considerably different from the regular model's. The bumper has been redesigned and now incorporates a huge tow hook and two mud recovery hooks, making it more extreme. It fulfills all exploration and weekend challenges with dimensions of 1,560 mm x 1,743 mm.
Due to the different rear suspensions, the load capacity is reduced compared to the standard Raptor, but it is still up to the task of any pick-up, and it can tow a trailer weighing up to 2.5 tons.

Brake System
The Ranger Raptor received new and adapted brake system components.
The two-piston front calipers, increased in diameter by 9.5 mm, along with ventilated discs impressive in size at 332 x 32 mm, help this 5456 lb car brake very convincingly and evenly. Additionally, the rear discs are also noteworthy for their dimensions of 332 x 24 mm, which are firmly held by 54mm new calipers.
The Ranger Raptor comes with a Terrain Management System (TMS) that offers six modes for different driving experiences, which can be selected using a five-button switch located on the steering wheel.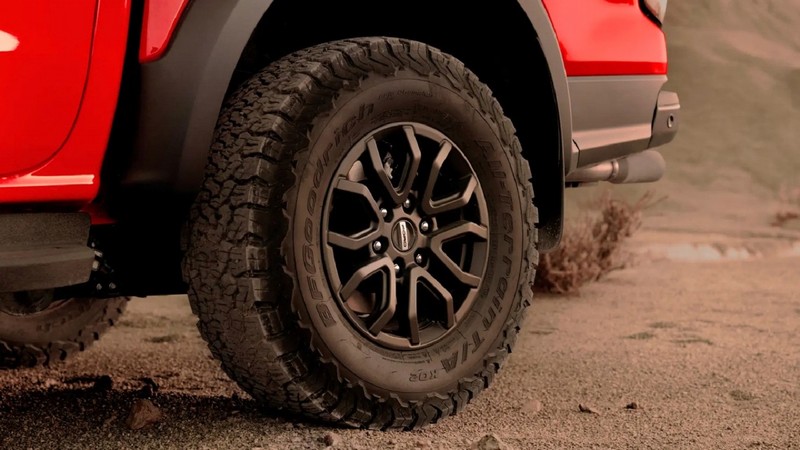 On-road programs
Normal Mode – Emphasizing comfort, fuel economy, and drivability
Sports mode – Suitable for high-performance driving on the road. This implies quick, sharp gear changes at higher engine speeds to enhance throttle response. In this operating mode, gas and automatic transmission performance are quicker and more precise, while gear changes are made at a greater rate of rotation.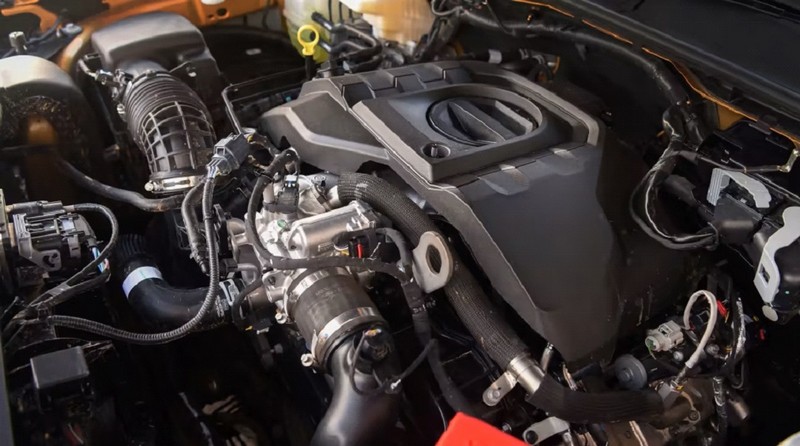 Off-road programs
Grass / Gravel / Snow Mode – Designed to inspire safe and secure driving on slippery and uneven surfaces. This is achieved by smoother shifting and starting from second gear, thus minimizing the likelihood of wheel spin.
Mud / Sand Mode – Vehicle response is tuned for optimal traction and momentum on deep, deformed surfaces such as loose sand and mud. This is achieved by maintaining lower gears with high torque.
Rock Mode – used especially for low-speed rocky terrain where smooth handling is key.
Baja Mode -The engine and transmission are both calibrated for excellent off-road performance, as drivers need in the famous Baja Desert Rally. In this mode, systems such as traction control are "muted" to allow fast off-road driving without driver interference. Gear selection is also optimized for maximum performance, so gear changes will be made quickly and aggressively at a higher number of revolutions.

A Superior Driving Feel
Ultimately, all the Raptor's revisions and innovations were targeting one thing: delivering superior fun in any condition while driving fast and hard off-road, which is something that very few cars currently available on the market can do.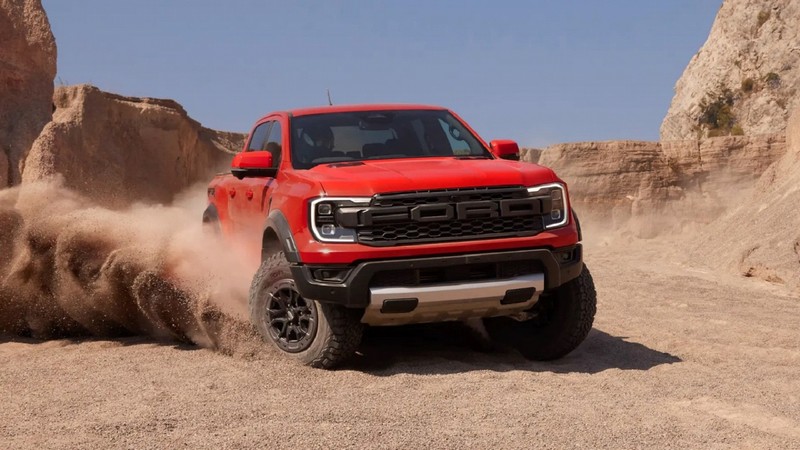 The Raptor excels at overcoming difficult obstacles like canals, mud, and sand, but this isn't something that sets it apart from other SUVs.

In the Baja mode, inspired by the particular sand races in the United States and named for them, only when you press the huge gas pedal to the floor can real fun begin. In Baja mode, Fox Racing shock absorbers "breathe," allowing for softness over bumps while also offering complete control thanks to the large suspension travel and sturdy BF Goodrich tires.

Overall, the Ford Ranger Raptor is an awesome off-roader with a slew of equipment to tackle any terrain.